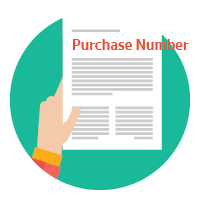 Purchase Number
เลขที่คำร้องขอจดทะเบียนชื่อโดเมน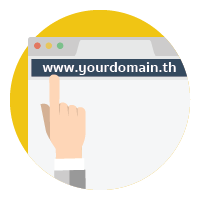 Domain Name
ชื่อโดเมน
Issue an A/C PAYEE ONLY Cheque or Money Order to "T.H.NIC Co., Ltd." in Thai Baht only.
Send invoice together with the Cheque or Money Order and the withholding tax deduction certification (if any) to
T.H.NIC Co., Ltd.
P.O.Box 58 Khlong Luang Pathum Thani 12120
Siam Commercial Bank
Name of Account : T.H.NIC Co., Ltd.
Number of Account : 130-3-00550-1
Branch : Soi Arisamphan
Type of Account : Current Account
SWIFT CODE : SICOTHBK

Send us your Bill Payment Real Time slip together with the name of domain and Invoice Number or Purchase Number by Fax No. (+66)0-2564-8033
---
Kasikorn Bank
To pay via THNIC's Invoice
You will not pay for transfer fee.
To pay via pay-in slip for upcountry branch
You have to pay 30 Baht for transfer fee.

Name of Account : T.H.NIC Co., Ltd.
Number of Account : 178-2-66467-7
Branch : Khlong Luang
Type of Account : Savings Account
SWIFT CODE : KASITHBK

Send us your Bill Payment Real Time slip together with the name of domain and Invoice Number or Purchase Number by Fax No. (+66)0-2564-8033
If you have any problems about billing inquiries or want to change billing address, please do not hesitate.
---
Please Contact
E-mail : billing@thnic.co.th
Tel. : (+66)0-2105-4007 (8:30-16:30 น.)
Your Payment
For domain registration
Whenever THNIC receive your payment, THNIC will approve your domain as soon as possible. After that THNIC will send a receipt slip to billing contact.
For domain renewal
THNIC will email to notify registrant whenever the domain name is nearly expired. The notified email will be sent out before the domain expire for 60 days and every 15 days.
Note
The domain name may be deleted if you make the payment after due date for 30 days.
Details for withholding tax deduction
Name of Taxpayer :
T.H.NIC Co., Ltd.
Address :
111 Mu9, Thailand Science Park,
2nd Floor, Room P-206, Phahon Yothin Road
Khlong Luang, Pathum Thani 12120, Thailand
Taxpayer ID (New) :
0135542000672
Invoice request process
Please send details for invoice to email : support@thnic.co.th
Domain name
Period
Name and address of organization
Tax ID with head office or branch
Remark: New domain name registration. THNIC will only process the invoice when the request has been processed
Notice
** We are apologized for our system delay and disturb you. According to domain name service fee which you had paid to us already, but status is still being shown that you have not pay it. Please send us your transfer slip together with the name of domain and invoice number or purchase number to fax no. (+662) 564-8033 or billing@thnic.co.th **
** THNIC will send the receipt/tax invoice to the billing contact when we received the withholding tax deduction certified letter already. **
** If you have not received the receipt/tax invoice , please contact us as soon as possible. **
.TH support team is available at (+66) 0 2105 4007